The annual Clinical Year in Review program continues to grow with a third day of live presentations at the ATS 2022 International Conference. Hot topics for Clinical Year in Review 3 on Tuesday, May 17, include cystic fibrosis, sepsis, bronchiectasis, and general critical care.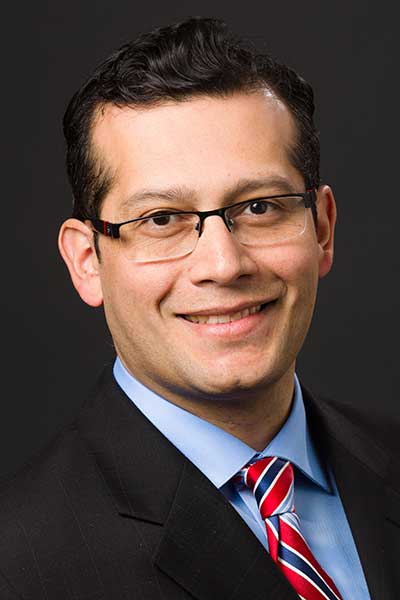 "It's not just these specific conditions, it's the connection between intensive and critical care that affects so many of our members in so many important ways," said Jose L. Gomez, MD, MS, associate professor of pulmonary, critical care, and sleep medicine, Yale University School of Medicine.
The session will take place from 9:30–11 a.m. PT in Hall E (North Building, Exhibition Level), Moscone Center. Dr. Gomez will co-chair the session with Rupal J. Shah, MD, MSCE, associate professor of pulmonary, critical care, allergy, and sleep medicine, University of California, San Francisco, and Juliana C. Ferreira, MD, PhD, associate professor of medicine, University of São Paulo, Brazil.
The trio also will lead part 4 on Wednesday, May 18. Each of the four programs focuses on distinct areas of clinical care.
Elizabeth Wilcox, MD, PhD, FRCPC, assistant professor of medicine, University of Toronto, and Krembil clinician investigator, Krembil Research Institute, Toronto, Canada, will discuss the latest clinical advances in general critical care. New approaches are improving the treatment of shock, Dr. Gomez said, and the COVID-19 experience has produced important changes in the management of intubation and mechanical ventilation that are transforming patient outcomes.
Cystic fibrosis has been associated with poor disease outcomes and is one of the most complex pulmonary diseases spanning childhood and adult life, Dr. Gomez continued, but intensive research is improving patient care, outcomes, and quality of life. Christine Marie Bojanowski, MD, assistant professor of clinical medicine and co-director of the Adult Cystic Fibrosis Program, Tulane University School of Medicine, will discuss some of the most recent advances.
"There have been important developments in cystic fibrosis therapies for children," Dr. Gomez said. "And across all our CF patients, regardless of their age, there have been some important improvements in the identification and management of comorbidities in different subsets of patients. This is a must-attend session for anyone who cares for patients with cystic fibrosis."
Flavia R. Machado, MD, PhD, professor of intensive care and chair of anesthesiology, pain, and intensive care, Federal University of São Paulo, Brazil, will discuss the latest updates in the treatment of sepsis. Key developments include improved characterization of microbial resistance in sepsis and the practical implications for patient care.
Wael Elmaraachil, MD, associate clinical professor of medicine, University of California San Diego, will discuss the latest findings in bronchiectasis.
"This session, like all four of our Year in Review sessions, gives you an insight into the important clinical developments in specific areas from emerging experts in the field," Dr. Gomez said. "And you can also get points for Maintenance of Certification as well as Continuing Medical Education hours. Whether you come for one session or all four days, this is the most concise review you will find here at Moscone Center covering the core pillars in our specialty."
Don't Miss On-Demand Highlights
Unable to attend every session of interest at the ATS 2023 International Conference? Or couldn't join us in Washington, DC? Access some of the conference's best content through the ATS 2023 On-Demand Highlights platform, available this summer. It will include more than 100 scientific and clinical symposia, including Keynote sessions, Clinical Year in Review, and Adult and Pediatric Core Curriculum.