The ATS's essential update across key elements of pulmonary, critical care, and sleep medicine is going live at the ATS 2022 International Conference. This is the third year for what has become one of the most popular annual conference events and the first time the program will be presented in person.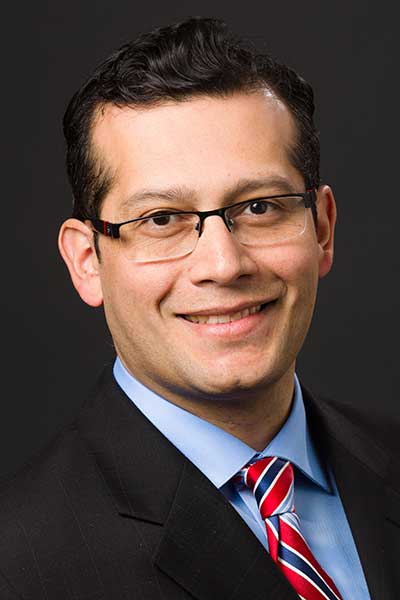 "This Year in Review program is focused on the most recent state-of-the-art research and advances across diagnostics and therapeutics in lung disease that is relevant to all clinicians, regardless of their workplace," said Jose L. Gomez, MD, MS, associate professor of pulmonary, critical care, and sleep medicine at Yale University School of Medicine. "It has very quickly become one of the core pillars of the specialty with essential learning for everyone practicing pulmonary, critical care, and sleep medicine."
Dr. Gomez will co-chair Clinical Year in Review 1 on Sunday, May 15, from 9:30–11 a.m. PT with Rupal J. Shah, MD, MSCE, associate professor of pulmonary, critical care, allergy, and sleep medicine, University of California San Francisco, and Juliana C. Ferreira, MD, PhD, associate professor of medicine, University of São Paulo, Brazil.
The three also will moderate Parts 2, 3, and 4 of the annual review on Monday, Tuesday, and Wednesday, May 16-18. Each program will focus on different areas of interest and take place in Hall E (North Building, Exhibition Level), Moscone Center.
The Sunday session will open with an update on pulmonary vascular disease from Belinda Rivera-Lebron, MD, MS, associate professor of pulmonary, allergy, and critical care medicine, University of Pittsburgh School of Medicine. Dr. Rivera-Lebron also directs the University of Pittsburgh Medical Center Acute Pulmonary Embolus and UPMC Chronic Thromboembolic Pulmonary Hypertension programs.
"We have seen some important advances in the treatment of thrombotic disease and in pulmonary arterial hypertension in the past year," Dr. Gomez said. "We will be hearing about novel therapeutic paradigms, as well as some new applications of existing therapeutic agents that are improving patient care."
Dr. Shah will explore the latest advances in two key areas of interstitial lung disease, pulmonary fibrosis and interstitial pneumonia. New developments are transforming the treatment of exacerbations in pulmonary fibrosis, Dr. Gomez noted. And patients with interstitial pneumonia are seeing the benefits of novel approaches in diagnosis and symptom management.
Long years of basic and translational research in lung cancer are emerging as new therapies, new prognostic risk factors, and new refinements in screening. Neal Navani, MD, PhD, MSc, consultant in thoracic medicine, University College London Hospital, United Kingdom, will detail some of the newest therapies for lung cancer subtypes. He will discuss recent therapeutic advances for the treatment of lung cancer with KRAS mutations, which have been some of the most refractory of all lung cancers. Dr. Navani also will discuss the newest advances in lung cancer screening.
Francesco Amati, MD, Department of Pathophysiology and Transplantation, University of Milan, Italy, will discuss the latest developments in pneumonia and pulmonary infections.
"This is just the first session of our Year in Review, and we have three more days to follow," Dr. Gomez said. "This is the best opportunity to learn from a carefully curated review of the latest advances by the rising stars of our specialty. And you can get both Continuing Medical Education and Maintenance of Certification credits for attending. The Year in Review could be the most useful 90 minutes of your day in San Francisco."
Don't Miss On-Demand Highlights
Worried you won't be able to see every session of interest at the ATS 2023 International Conference? Or not able to join us in Washington, DC? Access some of the conference's best content through the ATS 2023 On-Demand Highlights platform, available in June. It will include more than 100 scientific and clinical symposia, including Keynote sessions, Clinical Year in Review, and Adult and Pediatric Core Curriculum.